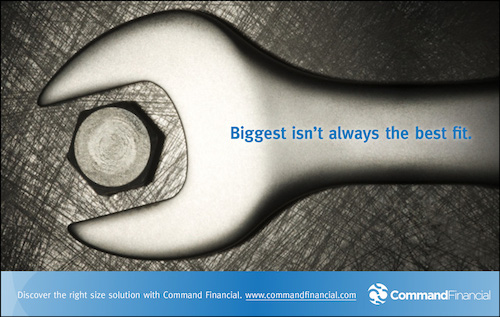 Bigger isn't necessarily better. At Command, we have not only exceptional capacity, but also dedicated teams and continuity of staff so you know exactly with whom you will be working each and every day, each and every project. We provide customized solutions to meet each client's specific needs. 
Service
At Command Financial, service isn't just something that we deliver, it is the core of who we are: from collaborating with clients to determining scope and pricing the job accurately; to responsiveness in managing the inevitable changes on a tight time frame. Each job is assigned a single-point of contact and a dedicated team empowered with the authority to do whatever it takes to ensure total satisfaction. Through continual, attentive communication and absolute accountability, we make the job time efficient and give clients the confidence they need to remain focused on their work, not worrying about their documents.
Technology
Command Financial develops new applications and client-facing tools  to provide customized, user friendly, best-of-breed solutions for managing data, documents, and distribution. Rather than confining our clients to the capabilities of a single platform, Command leverages technology to take advantage of innovations in the marketplace, offering superior data room, deal room, XBRL conversion, document management and other technology solutions to meet our clients' needs. From the Command Automated Publishing System (CAPS), to cutting edge Data Rooms and Deal Rooms, Command Financial is committed to implementing advanced solutions that benefit our clients.
Expertise
Command Financial is far more than a printer. We are a true partner to our clients, who benefit from knowledgeable staff that includes not just experts in financial printing, but also professionals who have worked firsthand at securities law, financial reporting, fund administration, investment banking, and other corporate positions. This combination of skills and experiences gives our team an understanding that is unique among financial printers. We leverage deep, in-house resources to provide counsel on details of SEC rules, EDGAR and XBRL, and GAAP accounting to assist in ensuring that information is accurate and that every job is done right. This is one reason Command boasts a 100% XBRL filing success rate with no suspensions or warnings from the SEC.
Data Security
As document creation and management have migrated from the physical to the electronic realm, the requirements for document security have increased exponentially. Command Financial fully understands that the confidentiality and safety of sensitive financial documents is critical, which is why we have instituted industry-leading best practices, so our clients can be assured that their information is safe and secure.
Command Financial has undertaken quality and security management initiatives. Our Quality Management System has been assessed by external auditors and found to be in conformance to both the ISO 9001:2015 and ISO 27001:2013 standards.
Command utilizes SunGard Data Systems for key aspects of disaster recovery and business continuity including secure hosting, data storage, secure infrastructure, and alternative work stations. Additionally, multiple sites within the Command Companies house workstations and other facilities for ongoing operations, as well as alternative print production capabilities.